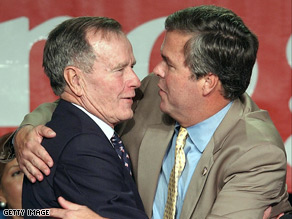 Now probably a 'bad time' for Jeb to run for W.H.
WASHINGTON (CNN) – His son hasn't left the White House yet, but former president George H. W. Bush is already thinking about the next Bush who might one day move in. The elder Bush says his oldest son, former Florida Gov. Jeb Bush, has all the qualities necessary to occupy the Oval Office.

"I'd like to see him run, I'd like to see him be president some day," the nation's 41st chief executive declared on "Fox News Sunday." He is "as qualified and as able as anyone I know in the political scene."

However, the senior Bush acknowledged, "Right now is probably a bad time, because we've got enough Bushes in there."

HAHAHAHAHAHAHAHAHAHA!!!!!
God lord, I haven't laughed that hard in a very long time.